Wall Mounted Pergola and Decking Kit - 3m x 3m - 2 Posts
Product code: WMPDK3
Transform your garden into an inviting space for relaxation and entertainment with this pergola and decking kit. The kit comes complete will everything you need to create a beautifully crafted decking area with integral pergola and requires no foundations or advance preparation.
Constructed from pressure treated, joinery grade redwood timber and redwood posts, all of the components are pre-cut and machined, which means only simple tools are required to complete assembly using the detailed picture instructions for guidance.
If you require a custom size pergola, please do contact us for a quotation.
Width = The length against the wall
Depth = Length of the rafters
They are available in a choice of styles, sizes and colours to suit every setting and budget.
Standard UK Delivery - £9.99
Please note: The product colours shown are representative only and may differ on the actual product due to natural variations in the timber used. (Not all fixings are included).
Postcode Checker
Please enter a postcode to check we can successfully delivery this item & cost to do so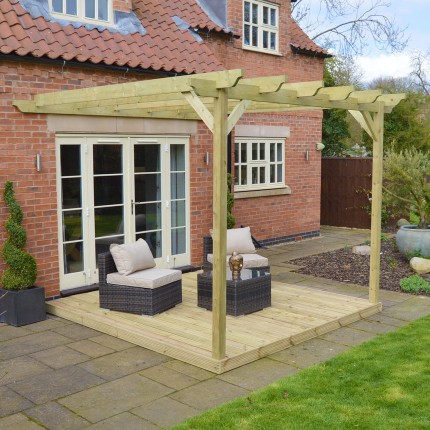 Mouse over the above image to zoom, click to view full