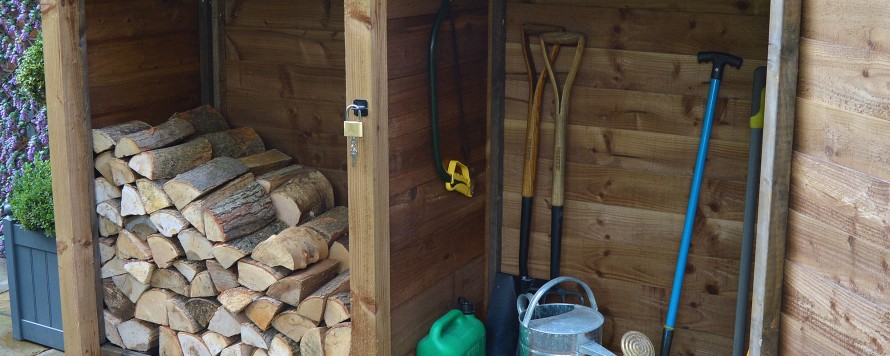 Tool stores
A convenient, practical and attractive answer to how to store your garden tools. Our larger models even allow you to combine your log and tool storage into one compact solution.
Garden Tool Stores
A top quality tool store is the ideal way to keep your garden free from tools and equipment, without detracting from the aesthetics of your outdoor spaces that you work so very hard to maintain. Our versatile and practical garden tool stores come in a variety of sizes, to offer a storage solution for any sized garden and property.
If your shed is overflowing or your garden is starting to look cluttered, why not invest in a tool store to help keep your tools neatly and safely tidied away? A tool store can be positioned anywhere you like in your garden, whether that is easily accessible or hidden away in a corner. Whatever you choose, all of our wooden tool stores are designed to be practical and functional, whilst still matching your existing garden furniture perfectly. They are the perfect solution to keeping tools out of harm's way; something that is particularly important if you regularly have young children or pets in your garden.

Tool Stores For Your Garden Storage Needs
All of our excellent quality wooden tool stores feature solid, sturdy floors that make them ideal for storing all of the gardening tools or garden equipment that even the busiest gardener or household may have. Many of our larger storage units also feature dedicated space for logs, an incredibly helpful addition if organisation and space saving is key. Of course, our tool stores can also be paired with our stand alone garden log stores for the ultimate garden storage solution.

Wooden Tool Store Construction
As with all of our wooden garden furniture, you can rest assured that our garden tool stores are made using only the highest quality, pressure treated timbers from FSC approved sources. You can trust that not only will your new tool store stand up to the test of time and offer protection for all your tools and equipment, it will be environmentally sound, too.
Along with ensuring our wood is sturdy enough to take everything you throw at it, our wooden tool stores also feature heavy duty hasps, fasteners and corrosion-treated screws, to be sure your tool store remains functional and will stay securely fixed for its lifespan.