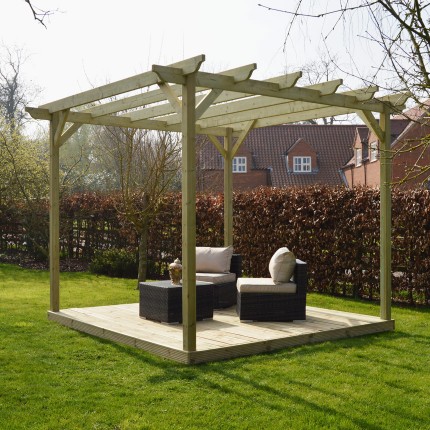 Mouse over the above image to zoom, click to view full
Wooden Pergola and Decking Kit
Product code: WPDK

Wooden Pergola and Decking Kit Description
Transform your garden or patio into a stylish living area with a pergola from Rutland County Garden Furniture - one of the UK's leading pergola manufacturers.
The Pergola and Decking Kit comes complete will everything you need to create a beautifully crafted decking area with integral pergola and requires no foundations or advance preparation.

Wooden Pergola and Decking Kit Features
• Easy assembly with the minimum of tools required.
• High quality pressure treated Northern European Redwood.
• Corrosion treated, heavy duty fixings.
Please note: The product colours shown are representive only and may differ on the actual product due to natural variations in the timber used.
Unable to find the size you desire? Please ask us about our custom pergolas.
Standard UK Delivery - £9.99
To confirm that we can deliver the Box Pergola to your area please use the postcode checker below!
Postcode Checker
Please enter a postcode to check we can successfully delivery this item & cost to do so