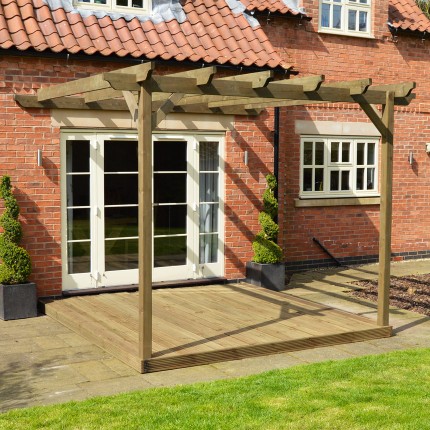 Mouse over the above image to zoom, click to view full
Wall Mounted Pergola and Decking Kit
Product code: WMPDK

Wall Mounted Pergola and Decking Kit Description
Transform your garden or patio into a stylish living area with a pergola from Rutland County Garden Furniture - one of the UK's leading pergola manufacturers.
The Wall Mounted Pergola and Decking Kit comes complete will everything you need to create a beautifully crafted decking area with integral pergola and requires no foundations or advance preparation.

Wall Mounted Pergola and Decking Kit Features
• Easy assembly with the minimum of tools required.
• High quality pressure treated Northern European Redwood.
• Corrosion treated, heavy duty fixings.
Unable to find the size you desire? Please ask us about our custom pergolas.
Please note: The product colours shown are representive only and may differ on the actual product due to natural variations in the timber used.
Standard UK Delivery - £9.99
To confirm that we can deliver the Wall Mounted Pergola and Decking Kit to your area please use the postcode checker below!
Postcode Checker
Please enter a postcode to check we can successfully delivery this item & cost to do so