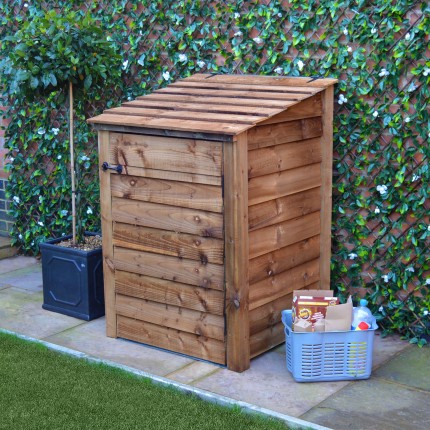 Mouse over the above image to zoom, click to view full
Morcott single recycling storage unit
Product code: SRS1

The Morcott single recycling storage unit description
The Morcott recycling storage unit is constructed from the same heavy duty 3x3 posts and featheredge board as our log stores and features weather resistant galvanised fixings, handles and hooks.

Morcott single recycling storage unit features
The design makes the unit free standing with no need to be placed against a wall or secured to the ground and is available in 1, 2 or 3 unit versions and also as a matching wheelie bin unit.

Standard UK Delivery - £9.99
To confirm that we can deliver the Morcott single recycling storage unit to your area please use the postcode checker below!
Postcode Checker
Please enter a postcode to check we can successfully delivery this item & cost to do so