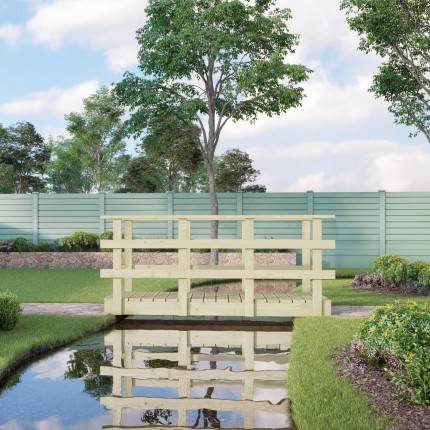 Mouse over the above image to zoom, click to view full
Brooke Garden Bridge (High Hand Rail) - 1200mm Wide
Product code: BGBHR1200
Brooke Garden Bridge Description
Our flat style wooden Brooke Garden Bridges are ideal crossings for water features, streams or as a walkway in any setting.
All of our bridges are made from sturdy Pressure Treated Northern European Redwood.
We have two designs; the low hand rail and the high hand rail. Both are available in multiple lengths, widths and in rustic brown or light green.
Brooke Garden Bridge Features
• Easy assembly with the minimum of tools required
• High quality pressure treated Northern European Redwood
• 28mm x 120mm decking
• 34mm x 140mm timbers used for the bridge base
• Corrosion treated, heavy duty fixings
• 34mm x 89mm timbers used for the hand rail
• Custom sizes available
Please note: The product colours shown are representative only and may differ on the actual product due to natural variations in the timber used.
Unable to find the the size you desire? Please ask us about our custom sized bridges.
Standard UK Delivery - £9.99
To confirm that we can deliver the Brooke Garden Bridge to your area please use the postcode checker below!
Postcode Checker
Please enter a postcode to check we can successfully delivery this item & cost to do so