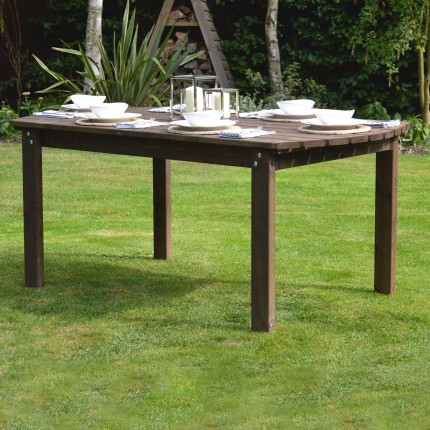 Mouse over the above image to zoom, click to view full
Barrowden Dining Table - 200cm - Curved
Product code: BDT20CUR
Handcrafted in our workshop, our latest range of furniture has a truly traditional feel. With its stylish design it is not only is it comfortable but can also help with your posture and increases relaxation.
The Barrowden Range is crafted entirely from joinery grade redwood using a chunky 34mm thick framework . To further enhance the robust feel the legs and armrests employ a heavy duty 45mm x 95mm timber that give the furniture a truly robust feel.
Quality and satisfaction are our top priorities at Rutland County Garden Furniture therefore, unlike other companies, all of our products are available in a choice of two different colours and are pressure treated which protects the timber from rot and fungal infection for up to 15 years. Each item in the Barrowden range is also thoroughly inspected by our in-house craftsmen, ensuring only the best quality furniture is produced and delivered to our customers.
The Barrowden 200cm dining table features a traditional slatted wooden top and clean simple lines. The design complements perfectly our range of Barrowden seating and comes in a choice of 2 attractive colour finishes.
Standard UK delivery - £9.99
Please note: The product colours shown are representive only and may differ on the actual product due to natural variations in the timber used.
Postcode Checker
Please enter a postcode to check we can successfully delivery this item & cost to do so