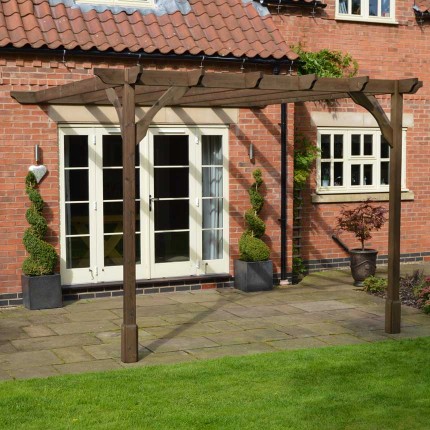 Mouse over the above image to zoom, click to view full
Wall Mounted Premium Pergola - 4.8m Depth
Product code: PLT48

Wall Mounted Premium Pergola Description
Transform your garden or patio into a stylish living area with a pergola from Rutland County Garden Furniture - The UK's leading pergola manufacturers.
The Rutland Wall Mounted Premium Pergola features rafters and runners that are slotted to form a halved joint, improving the strength, stability and look of your pergola.
Another feature designed to set the Premium model apart are the braces, which as well as being made from a wider than standard timber, are also scuplted for a more decorative appearance.
To finish everything off, the Premium posts are embellished with decorative pedestal panels.
Also available in multiple depths - 1.8m, 2.4m, 3m, 3.6m and 4.2m (and custom sizes upon request) - For these sizes please see our other listings.
Along with all bolt down and spiked feet purchases we supply a flat drill bit. After you have cut your posts to the desired length, please use the drill bit to drill a hole into the centre of the bottom of the post - this is to locate your post onto the bolt down or spiked foot.
All pergolas purchased with bolt down or spiked feet will be cut to 2.4m, unless requested otherwise.
Wall Mounted Premium Pergola features:
• Easy assembly with the minimum of tools required.
• High quality pressure treated Northern European Redwood.
• Solid 95mm x 95mm corner posts.
• 34mm x 140mm Runners and Rafters.
• Corrosion treated, heavy duty fixings.
• Curved decorative braces.
• Decorative post pedestal panels included.
• Custom sizes available.
Please ensure you have checked the dimensional drawing for your chosen size and the component parts drawing before completing your purchase as the sizes listed are those of the rafters and runners, not the post dimensions. The post positions can be found on the dimensional drawings.
Width = Overall Length Of Runners
Depth = Overall Length Of Rafters
If you require a roof to fit your pergola, please contact us regarding our polycarbonate roof kits.
Rafter Quantity / Rafter Gap Measurement
| | | |
| --- | --- | --- |
| Runner Length | Rafter Quantity | Gap Size Inbetween Rafters |
| 4.8m | 6 | 797mm |
| 5.4m | 8 | 645mm |
| 6m | 8 | 731mm |
| 6.6m | 10 | 627mm |
| 7.2m | 10 | 694mm |
| 7.8m | 12 | 616mm |
Please note: The product colours shown are representative only and may differ on the actual product due to natural variations in the timber used.
Unable to find the the size you desire? Please ask us about our custom sized pergolas.
Standard UK Delivery - £9.99
To confirm that we can deliver the Wall Mounted Premium Pergola to your area please use the postcode checker below!
Postcode Checker
Please enter a postcode to check we can successfully delivery this item & cost to do so