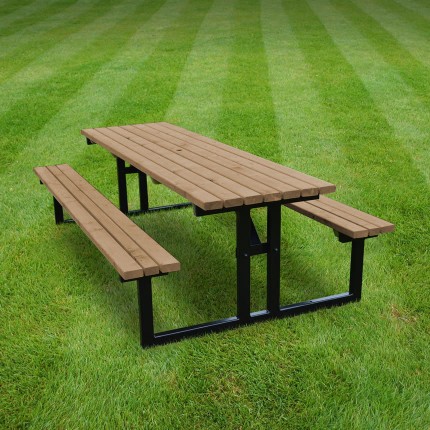 Mouse over the above image to zoom, click to view full
Tinwell Steel Picnic Bench
Product code: STPB

Tinwell Steel Picnic Bench Description
The Tinwell steel range has a strong and rugged construction that guarantees a long lifespan and good looks with steel frame components that are galvanised and specially finished in a semi-matt coating that is extremely tough, durable and pleasing to the eye.

Tinwell Steel Picnic Bench Features
The seat panels and top are constructed from the same high quality, heavy duty, joinery grade redwood timber, sourced from responsibly managed forests and are pressure treated to ensure they look good and last for years to come.
Each bench also features pre-drilled frame holes for secure floor fixing where necessary.
Standard UK Delivery - £9.99
Please note: The product colours shown are representive only and may differ on the actual product due to natural variations in the timber used.
To confirm that we can deliver the Tinwell Steel Picnic Bench to your area please use the postcode checker below!
Postcode Checker
Please enter a postcode to check we can successfully delivery this item & cost to do so