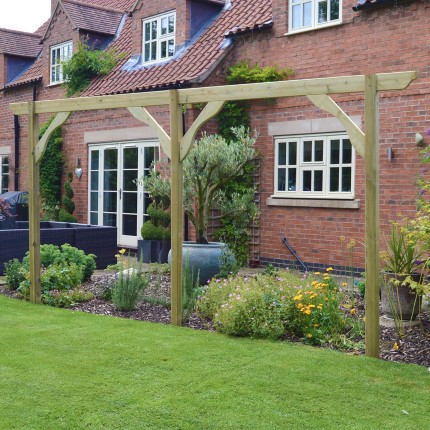 Mouse over the above image to zoom, click to view full
Screen Pergola
Product code: SP
Our screen pergola is a decorative structure that can be used for a wide variety of purposes when adding interest to a garden design.
Use it as the basis for a screen by training climbers up and around it or for a more defined look attach trellis panels.
The Screen Pergola also provides an ideal way to divide areas of your garden such as beds, patios, water features or decking in a simple but eye catching way.
Made from high quality pressure treated redwood, the pergola is built to last and is also quick & easy to build.
We would recommend using the spike pergola feet on surfaces such as grass, soil or if you are concreting the feet in place. The bolt down pergola feet are recommend for surfaces such as a concrete or decking.
Bolt down version includes: Either 4 x M10 x 95mm Bolts to fix to concrete or 4 x heavy duty coach screws to fix to the decking. Please ensure you put in the notes section which surface you're fixing the pergola too so we can send the fixings accordingly.
Available in a range of sizes - call for a quotation if you require custom dimensions.
Please note: The product colours shown are representive only and may differ on the actual product due to natural variations in the timber used.
Standard UK Delivery - £9.99
Postcode Checker
Please enter a postcode to check we can successfully delivery this item & cost to do so