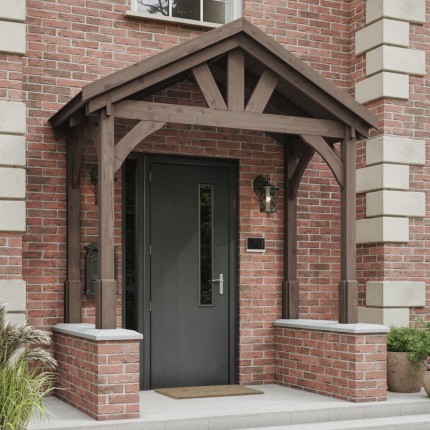 Mouse over the above image to zoom, click to view full
Porch - 2.4m Width - Felt Shingle Roof
Product code: FELTPORCH24

Porch Description
Create the perfect focal point for any property with a wooden framed porch that will not only provide a great deal of curb appeal but will also protect you from the elements.
This beautiful handmade porch is made from quality Northern European Redwood Timber that has been pressure treated to ensure the timber is free from any rot or fungal attack for up to 15 years!
Hand built by a specialist team of dedicated craftsmen in the heart of England, it is manufactured using 95mm x 95mm posts for a strong, robust structure.
The Rutland County Garden Furniture Porch is available with multiple variations, such as a choice of 2 roof materials; Slate or Felt-Shingle and a choice of 2 timber colours; Light green or Rustic Brown.
Porch Features
• Easy assembly with the minimum of tools required
• High quality pressure treated Northern European Redwood
• All timber parts designed & manufactured in-house at our workshop
• Corrosion treated, heavy duty fixings
• Available as a 2 and 4 post version, with a choice of post heights (see our other listings)
Please note: Brickwork, flashing & brackets/fixings required to attach the porch are not included. Different wall types will require the appropriate fixings. Please seek professional advice if you are unsure on which fixings to use.
Customer image gallery available HERE
Delivery information available HERE
Standard UK Delivery - £19.99
Please note: The product colours shown are representive only and may differ on the actual product due to natural variations in the timber used.
To confirm that we can deliver the Porch to your area please use the postcode checker below!
Postcode Checker
Please enter a postcode to check we can successfully delivery this item & cost to do so