Garden Pergola 3.6m x 3.6m - Sculpted Rafter End - 4 Posts
Product code: WGSPS36
Our Pergola gives a classic, refined look to any garden.
As well as looking the part, each pergola is constructed from substantial 6"x2" timbers, giving it superb durability and strength.
Each pergola is carefully designed with ease of construction in mind and the heavy duty redwood corner posts feature a central notch design that houses the side runners. The rafters are also notched at either end to aid correct alignment and joint integrity.
When delivered, the redwood vertical posts are supplied at 2.7m long giving you the option to concrete them into the ground or alternatively, having them sawn down to a 2.3M, free standing, finished height.
The cladding option gives the foot section of your pergola an added decorative flourish and chunkier feel.
Please note, if you require any bespoke sizes, please call us on 01778 440803.
Width = The length of the runners
Depth = Length of the rafters
Standard UK Delivery - £15
Postcode Checker
Please enter a postcode to check we can successfully delivery this item & cost to do so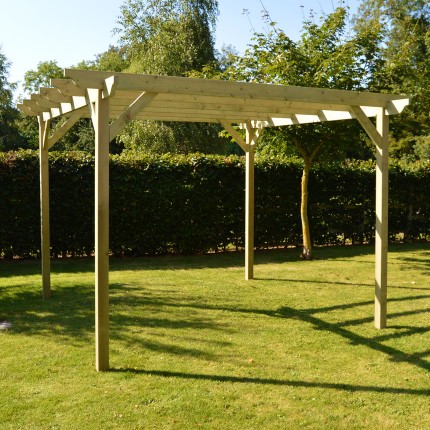 Mouse over the above image to zoom, click to view full