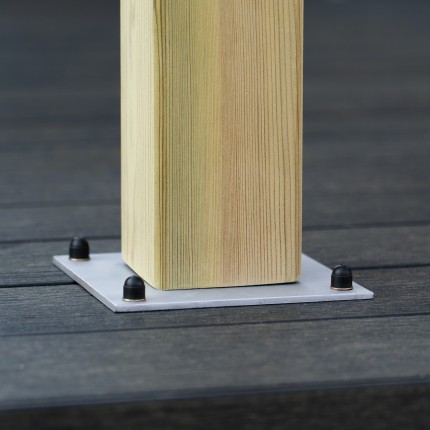 Mouse over the above image to zoom, click to view full
Galvanised Steel Pergola Foot / Post Holder
Product code: PERGOLAFOOT

Galvanised Steel Pergola Foot
You will need to purchase a quantity of 2 for the Wall Mounted 2 post versions and a quantity of 4 for the 4 post versions.
These are made to fit our Rutland County Garden Furniture 95mm x 95mm Pergola posts.
Galvanised Steel Pergola Foot Features
Along with all bolt down and spiked feet purchases we supply a flat drill bit. After you have cut your posts to the desired length, please use the drill bit to drill a hole into the centre of the bottom of the post - this is to locate your post onto the bolt down or spiked foot.
All pergolas purchased with feet wil be cut to 2.4m tall unless otherwise requested.
Standard UK Delivery - £9.99
To confirm that we can deliver the Galvanised Steel Pergola Foot to your area please use the postcode checker below!
Postcode Checker
Please enter a postcode to check we can successfully delivery this item & cost to do so