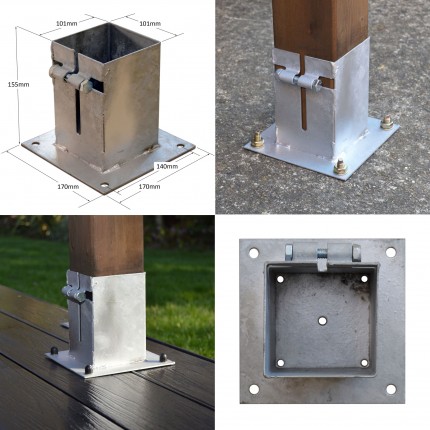 Mouse over the above image to zoom, click to view full
Galvanised Steel Pergola Foot / Post Holder 95mm x 95mm
Product code: PERGF

Galvanised Steel Pergola Foot
If you order this product along with one of our Rutland County Garden Furniture pergolas, the delivery charge of £4.99 will be deducted from the cart.
You will need to purchase a quantity of 2 for the Lean to 2 post versions and a quantity of 4 for the 4 post versions.
These are made to fit our Rutland County Garden Furniture 95mm x 95mm Pergola posts.
Please note if you are buying these to fit a Premium model, please contact us first for advise.
Galvanised Steel Pergola Foot Features
The Bolt Down version includes: 4 x M10 x 95mm for fixing into concrete OR 4 x heavy duty coach screws to fix into decking. Please remember to specify in the notes section at checkout which fixings you will need so that we can send the correct fixings to you.
Standard UK Delivery - £4.99
To confirm that we can deliver the Galvanised Steel Pergola Foot to your area please use the postcode checker below!
Postcode Checker
Please enter a postcode to check we can successfully delivery this item & cost to do so