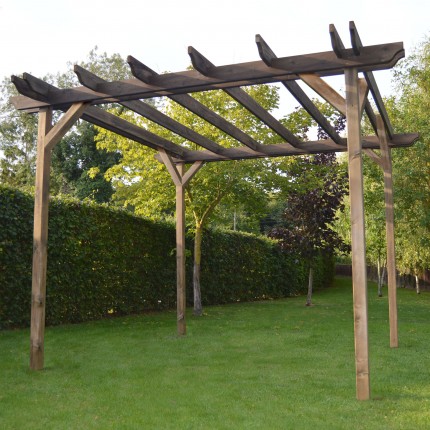 Mouse over the above image to zoom, click to view full
Double Garden Pergola - 4 Post
Product code: DGP

Double Garden Pergola Description
Transform your garden or patio into a stylish living area with a pergola from Rutland County Garden Furniture - one of the UK's leading pergola manufacturers.
The Double Garden Pergola is an enhanced variation on the classic pergola design that adds further timbers which give a more substantial look and feel.

Double Garden Pergola Features
• Easy assembly with the minimum of tools required.
• High quality pressure treated Northern European Redwood.
• Corrosion treated, heavy duty fixings.
• Optional cladding foot section to give an added decorative flourish and chunkier feel.
• Spike feet option for use on grass, soil or if you are concreting the feet in place.
• Bolt down feet option for surfaces such as a concrete or decking.
Bolt down version includes: 4 x M10 x 95mm for fixing into concrete OR 4 x heavy duty coach screws to fix into decking. Please remember to specify in the notes section at checkout which surface you're fixing into so that we can send the correct fixings.
Unable to find the size you desire? Please ask us about our custom pergolas.
Standard UK Delivery - £9.99
Please note: The product colours shown are representive only and may differ on the actual product due to natural variations in the timber used.
To confirm that we can deliver the Double Garden Pergola to your area please use the postcode checker below!
Postcode Checker
Please enter a postcode to check we can successfully delivery this item & cost to do so