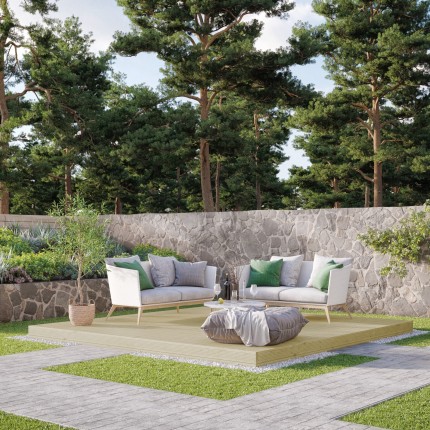 Mouse over the above image to zoom, click to view full
Decking Base Kit
Product code: DKB

Decking Base Kit Description
A decking area can provide a practical, good looking addition to a wide variety of properties and a seamless transistion between home and garden.
Our decking kits offer improved scope for leisure & entertaining, potentially adding value when it's time to sell your property.
The timber used in our all of our decking kits is high quality, pressure treated, northern european redwood for strength, stability and superior longevity.
The joist frame timbers are either 89 x 34mm or 140 x34mm, depending on the kit size, with 120mm wide x 28mm thick decking planks and each kit is suspended by sturdy 95 x 95mm supports.
Our kits contain all the decking boards, decking joists and fixings you will require, along with easy to follow instructions to complete assembly.
Decking Base Kit Features
• Easy assembly with the minimum of tools required.
• High quality pressure treated Northern European Redwood.
• Available with either 4 x 2" or 6 x 2" joists and a range of sizes.
Standard UK Delivery - £9.99
To confirm that we can deliver the Decking Base Kit to your area please use the postcode checker below!
Postcode Checker
Please enter a postcode to check we can successfully delivery this item & cost to do so